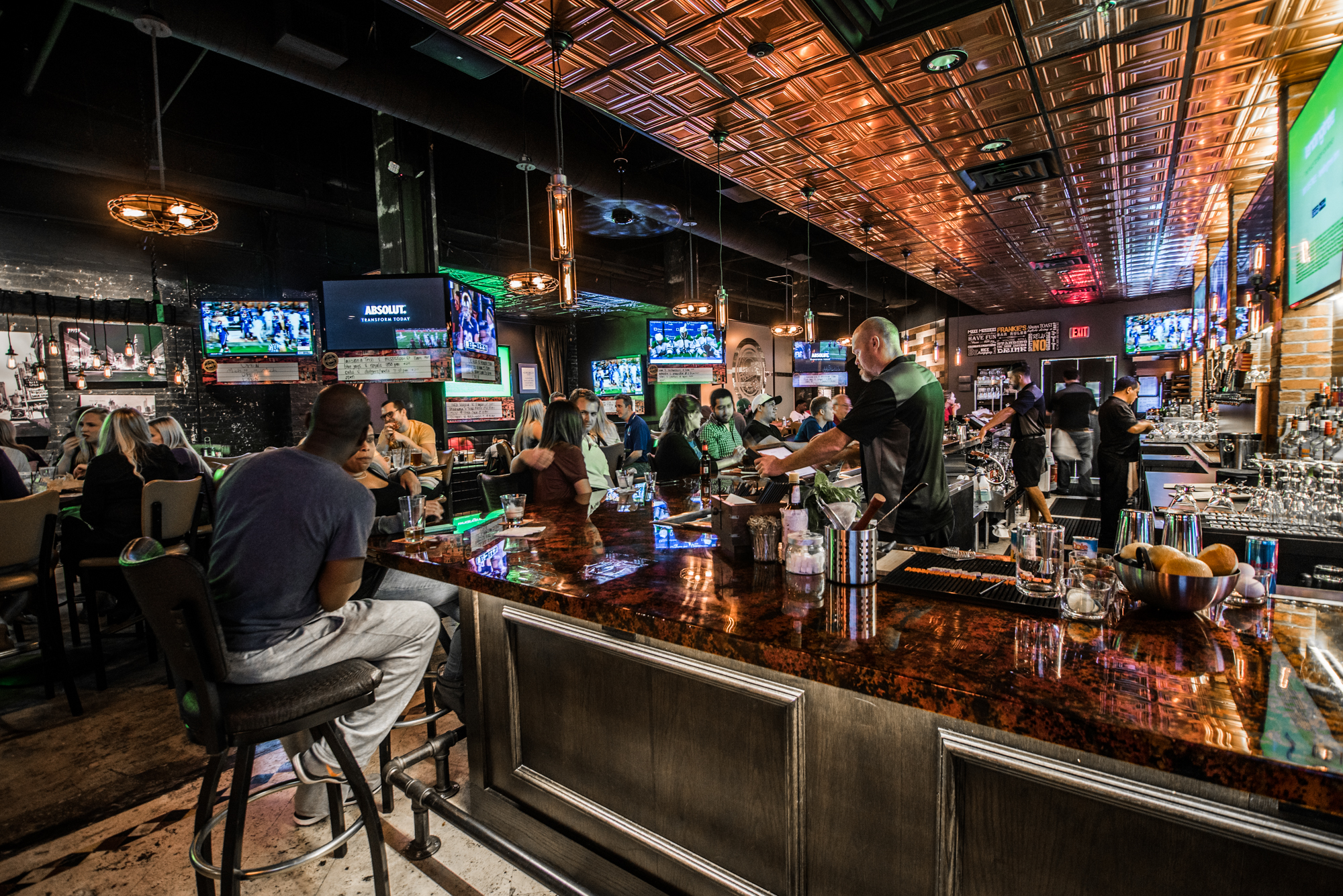 Where to Watch the Super Bowl in Dallas
Our 'Boys won't be playing, but we're not sore losers.
By Ginni Beam
Published in Nightlife
February 3, 2017
11:47 am
Come Sunday, we'll all feel the Cowboy's absence in Super Bowl LI. Maybe you've made peace with that fact and are ready to watch the Patriots and Falcons go head to head. Or, perhaps, you're waiting for Lady Gaga's halftime show. Either way, here's where you can watch both throughout the city.
Cost: Free
When: 5 p.m. to 2 a.m. Feb. 5
Immerse yourself in more than 25 flat-screen TVs, a video wall, and complete surround sound. Wells, calls, and domestics are $3.50 all Sunday, and DJ Sean Michaels will keep the vibe going after the game.
Cost: Free
When: Doors open at 4 p.m. Feb. 5
There are no bad seats at The Ticket's official watch party. Watch the game on a 30-foot HD screen and enjoy slow-smoked Wiles BBQ, drink specials, parlor games, and prizes every quarter.
Cost: Free
When: Doors open at 3:30 p.m. Feb. 5
The taproom will open during off-hours for the big game. Seating is first come, first served, so arrive an hour or two before kick-off to get a good spot and try some specialty microbrews. Game-day specials include $25 beer buckets and $15 endless sliders and wings.
Cost: Free
When: 5 p.m. Feb. 5
No frills, just football and food. With plenty of TVs, delicious grub, and specialty craft beer and cocktails, Eastwood's does the Super Bowl right. Specials include $4 16-ounce domestic beers, $18 pitchers, and $15 bottomless mimosas and bilinis until 3 p.m. The patio is dog-friendly, so feel free to bring your pup.
Frankie's Bar and Kitchen (Carrollton)
Cost: Free
When: Pre-party starts at 2 p.m. Feb. 5
Kick things off with free Jell-O shots and $4 burger and hotdog plates straight from the grill. Buy a raffle ticket for a chance to win an autographed Charles Haley Cowboys jersey. Watch the game inside on the big screen or outside, tailgate-style. Drink specials include $15 domestic buckets, $20 import buckets, $5 crown & down, $5 all bombs, $4 Mexican candy shots, and $3 fireballs. Stay after the game for Tru Sound Coalition DJs spinning both inside and outside.
Cost: Free
When: 3-10 p.m. Feb. 5
Hit up the Flying Saucer in Addison for all-day $2 Saint Arnolds & Fireman's #4s, or Garland for a pre-game chili cook-off and great view of the lake. Both locations will have $3 Texas pints, out-of-this-world beer selections, and a tavern environment.
Sign up for the chili cook-off in person or by calling (972) 226-0725.
Cost: Free
When: Doors open at 4 p.m. Feb. 5
If you like your football larger than life, you'll love the Granada's three giant screens and concert-quality audio. Their bars will be stocked and ready and concessions will include nachos, BBQ sliders, and wings. Must be 21 and older to attend.
Cost: Free with RSVP; $50 table reservations
When: 5 p.m. to midnight Feb. 5
If a few hours of partying won't cut it for you, come to MoMo's Pasta, where special guests DJ Twenty Spinz and XO Hookah will keep the fun going all night. Authentic Italian dining is part of any party at MoMo's, and the kitchen will be open late, so come hungry and take advantage of the drink specials.
Register here, or call or text (214) 233-4250 for more information.
Cost: Free
When:
The most laid-back bar in Uptown will show the Super Bowl on 17 giant TVs. Ask your bartender about the drink specials and try some delicious made-to-order food. Take a breather on the patio for some giant Jenga, jumbo Connect 4, and cornhole. It's a popular venue and a popular game, so it might get cozy—but what's a party without a crowd?
Cost: $10/person or $30/team of up to five
When: Doors open at 3 p.m.
The doors at the Loft at Gilley's Dallas open at 3 p.m. for a massive chili cook-off at 3:30 p.m. (Don't cook? You're still welcome to taste test.) The party, hosted by The Porch, features live music from the Ray Johnston Band, cornhole, giant Jenga, 9-Square, and football tossing.
Quill Kitchen + Cocktails
Cost: Free with RSVP (buffet tickets available)
When: 3:30-10:30 p.m. Feb. 5
Watch the game with a more sophisticated crowd in this upscale Design District lounge bar. Ask your bartender for drink specials.
RSVP or call (972) 365-1364 for more information.
Cost: Free
When: 3-11 p.m. Feb. 5
Catch both the Super Bowl and much cuter Animal Planet's Puppy Bowl on the patio or on one of 30 indoor TVs at this classic sports bar. The house party-style event will have free valet parking, a free loaded nacho and frito pie bar, $1 PBR Pints, and $2 House Shots. Grab some bar swag from the promotion girls and play Super Bowl Squares. Bringing your whole squad? Call and reserve the private party room.
Cost: Free
When: 5-10 p.m. Feb. 5
It's tough to top Sports Garden for sheer screen power: they'll have the game on 12 flat screens, a big screen in the studio lounge, and a 28-foot (movie-screen size) TV in the bar. You can place side bets and play some darts, pool, Jenga, shuffleboard, or foosball. Order some Righteous BBQ or sign up in advance for the potluck (it's $10 to partake without contributing), and enjoy the drink and shot specials. Also, they have a bunch of new beers on draft.
Cost: Free
Experience the old-Hollywood charm of this historic venue with all the 2017 bells and whistles—full bar, big screen, and loaded concession stand.
Cost: Free
When: 4-9:30 p.m. Feb. 5
Get the whole family together in Lewisville to watch the game on a 12-foot flatscreen. Refreshments will include craft cocktails, sodas, and a special game-day menu from Too-N-Fro Café that includes wings, nachos, tacos, quesadillas, and more.
Ginni Beam is a DMagazine.com intern.